The 188th Manchester derby is almost upon us.
Manchester City welcome Manchester United to the Etihad Stadium on Sunday 2 October, with kick-off scheduled for 14:00 (UK).
Ahead of the encounter, we've spoken to two members of City's Norway and Denmark Official Supporters' Club, our oldest branch having been established back in 1974, about their favourite derby memories.
The OSC will be attending a special live screening of this weekend's derby in the Norwegian capital of Oslo as part of City's Premier League Trophy Tour celebrations. Tickets are still available, and for more information on how you can attend, click here.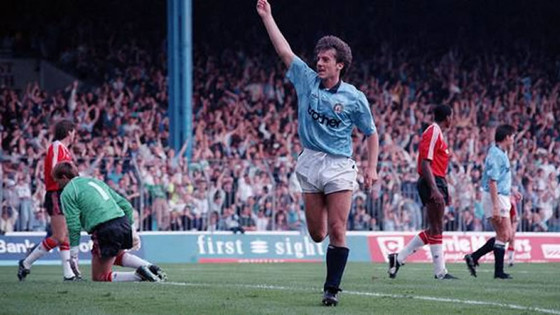 Tor Sonsteby: City 5-1 United, 23 September 1989
Back in 1989, Manchester City's pre-season games were held in Norway, the team staying in Fredrikstad as their main base.
We as a branch helped organise and set up the games for the team. We got to know the team quite well, ask Ian Brightwell, Paul Lake and Trevor Morley who are the ones I remain close friends with even to this day.
A couple of months after the pre-season games, I flew over from Oslo for the Manchester derby in September 1989 at Maine Road. I feared the worst but a derby day is always special – and it turned out to be one of our most famous results – a 5-1 win!

I remember seeing the Platt Lane end – full of the away supporters - emptying in the second half. I was always in the Kippax back in those days, and this was one of my best memories ever.

Karma comes and karma goes, so with hindsight, I suppose I wish our neighbours good luck this coming Sunday and here is hoping for a fair game.
Oystein Wolf: City 3-1 United, 14 January 2006
It was a wonderful, sunny day in Manchester back in January 2006.
Travelling from Norway, I was expecting the weather to be much worse, but on this particular day everything felt perfect hours before kick-off at Etihad.
I remember sampling the atmosphere at Mary D's bar, which is fantastic for any City fan, especially one who was about to experience my first Manchester derby, apart from a U21-match at Hyde Park in Easter 1999, where United won.
As I went to the stands and found my seat, there was a guy who looked very familiar. It turned out to be former City defender Age "Oggy" Hareide, sitting two seats from me! It was truly the beginning of a special day.
Trevor Sinclair and Darius Vassell gave City a 2-0 lead before the 40th minute, both goals right in front of me. A two-goal lead at half time, all blue skies, sun shining and my winter coat on the ground… could it get any better? Oh yes, it could!
A certain Portuguese winger started for the Reds that day, but never finished the game. The ref had no choice but to give him a red card for a poor challenge on Andrew Cole - off he went with the whole of the Etihad waving him off the pitch. Now, that was fun!
United pulled one back a few minutes after, but substitute Robbie Fowler had the honour of grabbing City's third in front of the away end. Manchester certainly was BLUE on that day!
It was a day I'll never forget - having been a blue since 1988, I hadn't been spoiled with that kind of result often, hence the impact it made on me.
City v United: Oslo Live Screening
Manchester City's global Trophy Tour, presented by OKX, is heading to Oslo!
On the Club's first visit to Norway, the trophy will be accompanied by City legend Paul Dickov for a football festival and screening of the Manchester derby on Sunday 2 October.
The event will be held at Meet Ullevaal, Oslo and fans will have the opportunity to:
• Create a 360 degree video with the real Premier League trophy
• Become part of their dream 5-a-side team in augmented reality
• Meet former striker Paul Dickov
• Meet club mascot Moonchester
• Take part in coaching clinics with Manchester City coaches (5-12 years)
• Win a signed shirt
The event will open from 10am - 6pm. Entry to the festival will be on a first-come-first-served basis on the day. To secure your spot for the screening, please register here.