In the latest edition of our series marking City's 2021/22 Premier League title success, the spotlight is shone upon Fernandinho.
In celebration of another memorable campaign, which yielded our sixth Premier League trophy, we take a closer look at the contributions of our City stars.
It was a true team effort with every player producing a significant impact. Today, we analyse the influence of a Club legend…
Season stats
Total appearances (all competitions): 33
Total goals: 2
Assists: 3
Premier League appearances: 19
Total cumulative minutes: 1,761
Season highlight
It was a history-making season for Fernandinho.
After reaching a century of Champions League appearances in March, he then became the Premier League's top Brazilian appearance maker with his 260th game – and marked the feat with an award-winning goal!
Introduced from the bench in the second half of our victory at Leeds United, he sealed a memorable day at Elland Road with virtually the final kick of the game, drilling a low effort home to make it 4-0 in a statement performance which edged Pep Guardiola's men closer to the title.
The effort scooped the division's 'most powerful goal' award, beating out the 1,071 scored across the entire campaign, as the strike with the fastest average speed from being struck to crossing the line.
He also found the net against West Ham on a snowy day in November, slotting home what proved to be the winner late on, and initiated the attack which claimed the Club's Goal of the Season award – Bernardo's sumptuous volley against Aston Villa – with a terrific forward pass into Gabriel Jesus' path.
Overview
It was only fitting that Fernandinho's final season – and final game – in City blue finished with silverware.
Our unforgettable five-goal thriller against Aston Villa yielded another Premier League winners' medal for our brilliant Brazilian, who has played such a pivotal role in the Club's glittering success over the past nine years.
Widely regarded as one of the best defensive midfielders in the competition's history, and a true leader both on and off the pitch, he has been instrumental in each of the 13 trophies he has won in sky blue.
Appointed captain by his teammates in the wake of David Silva's departure, he is beloved by all associated with the Club – a role he approached with the utmost pride. Utilising all of his experience and insight and showcasing his true leadership qualities, he is an inspirational figure in the dressing room and helps new or younger members of the squad to adapt.
With Rodri starring in the defensive midfield position, Fernandinho's minutes were more limited this season but as always, he conducted himself with the utmost professionalism, always looking to help the team wherever possible, and produced influential performances when called upon.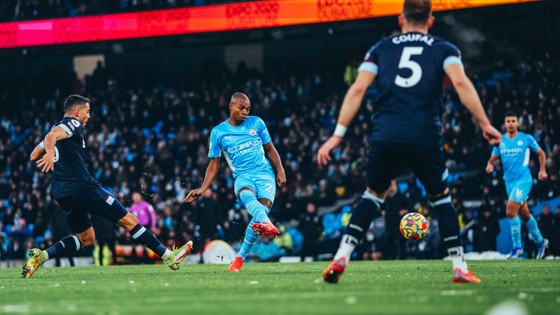 Selfless and strong with an unwavering work ethic, Ferna is a real grafter, managing the defensive side of the game to protect the back line and allow the more creative players to shine, though that is not to say he does not contribute outside of his central role – evident with his two goals and three assists. Highly intelligent and calm, he has a superb reading of the game and is unafraid to put his head where it hurts.
He played 19 of our 38 Premier League games this term, falling to defeat just once, and tallied 838 passes, averaging out at 44.11 per game, with a tackle success rate just shy of 50%.
A fan favourite, the masterful midfielder – another 'adopted Mancunian' – will be sorely missed but fondly remembered as a true City legend.
What they said
Khaldoon Al Mubarak: "He is a player who has earned everyone's respect, not just for his performances, which have always been of a consistently high level, but also his attitude and application. He is a true professional. His place in Manchester City history is assured."
Pep Guardiola: "He is an incredible captain that we have because he didn't play much this season because Rodri has been exceptional.
"He always tries to help the team, the guys who don't play, myself, the staff. He is so generous. He is just thinking about what the team need and what is best for the team.
"This is a real captain, when they always think about what is best for the team and the club. That is why he is so generous when he doesn't play and when he plays, he always plays well."
Darius Vassell: "He certainly is [one of best defensive midfielders in the Premier League]. City look after their ex-players, and it is lovely to see [him get a pitch named after him]. He's a player that the fans have grown to love, respect and admire."
Joleon Lescott: "What a guy! I was lucky enough to play with him (but) my memories of Fernandinho were before he joined us. I remember seeing him for Shakhtar (Donetsk) and this was the time when Chelsea's midfield was really strong.
"Ramires was running through the league in terms of midfield, and they played Shakhtar (but) I remember Fernandinho running (the game) and thinking: 'Who is this guy?' Then we signed him, and I was thinking: 'What a player we are getting here'. An exceptional player."
Henry Winter: "As a defensive midfielder he read absolutely everything. But I just think Fernandinho also has this intelligence, and he has obviously learnt so much from playing under Pep Guardiola.
"I don't think Fernandinho will be underrated by any of the opposition players who played against him and discovered what an amazing, talented player he was and is.
"He is an intelligent winner and those are two great qualities that he could take into management."