Pep Guardiola says he will never manage a Premier League club other than City.
The Catalan, in his sixth campaign as boss at the Etihad, was asked whether he would ever consider managing England at his pre-West Ham United press conference on Friday.
He believes Gareth Southgate is doing a fine job and hopes he signs another extension in addition to the one he penned earlier this week.
And although he reiterated his desire to take charge of a national team one day, he says City will be his only English club side.
AMAZING BLACK FRIDAY DEALS: SHOP ONLINE NOW
"Gareth is doing an incredible job," Pep said. "He extended two years so congratulations on my behalf to Gareth.
"I would love, I said many times, when I finish here, the pleasure to lead a team at a World Cup. But it is not easy to find it. There are only a few positions.
"I would like it but if it doesn't happen I will train clubs, so it will not be a problem.
"But in England, being here I think always I will be Man City and if I have to come back it would be at Man City, if they want me. I would not train another club in England apart from this club.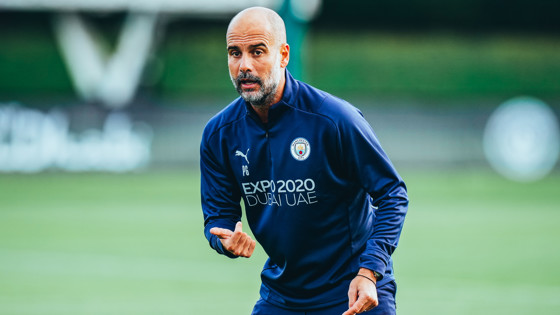 "What I want is Gareth has done an incredible job. Honestly what I want is for him to extend the contract and then after that extend more.
"I am not here to take a position from anyone. It's not my target.
"I want to be here [at City] as long as possible, as much as my energy and love is here. After that I don't know what will happen.
"Years ago  never thought I would be Manchester City trainer and when I came I never thought for six years I would be here. Never.
"Life dictates your future so we will see what happens there."
CITY V WEST HAM: GET YOUR TICKETS NOW
CITY V WEST HAM
City host West Ham on Sunday, with kick off at 14:00 (UK). 
We will have full coverage on the official Man City app.
Everything you need to stay close to the action is available all in one place.
Minute-by-minute text updates get under way at 12:00 (UK), with team news, analysis and all the latest opinion.
Our Matchday Live show will start just before 13:00 (UK). Joining presenter Cel Spelman in the studio are former City stars Trevor Sinclair and Michael Brown to keep you entertained right up until kick off. 
They will then reconvene for a quick half-time debrief before a more in-depth post-match verdict, including their reaction to the full-time thoughts of Pep Guardiola and a player. 
The guests will also answer viewer questions throughout the broadcast, with audience participation actively encouraged on Matchday Live. To get in touch, send a WhatsApp to: +447537186538.
And there will be live commentary throughout the 90 minutes, too, with Alistair Mann and Shaun Goater in the commentary box to guide you through the game.
Download the Man City app now and you won't miss a beat. Don't forget to turn push notifications on, that way you'll get reminders of everything as the day unfolds.
And our app coverage doesn't end there…
Highlights of the game will be made available for free at 19:00 and CITY+ subscribers can watch a full 90-minute replay of the game at midnight.
The best way to follow Manchester City is by downloading the official app!
If you already have the City App then simply visit the stores and update.
Download on your mobile phone or tablet via the Apple's App Store or Google Play Store.