Joleon Lescott has described how he is nurturing the next generation of defensive talent in his role as England Under-21s' assistant coach.
The former City defender joined Lee Carsley's backroom team in August 2021, offering his wealth of experience to the Young Lions' defensive set up.
With a heavy emphasis placed on building play from the back, the two-time Premier League champion has pointed out that his role involves teaching defenders to be pragmatic with that style.
Indeed, Lescott insists that, while being confident in possession comes naturally to many of today's young professionals, the 'traditional' demands of a defender are still hugely relevant to the modern game.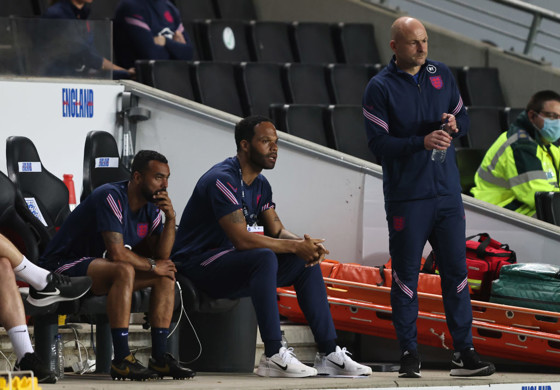 "It's instilled now, every one of these players that I've worked with has come through this generation of academy football where that's the only way you play," Lescott explained.
"It isn't a hard thing to teach, but it's knowing the right times to do it and understanding the situation and stage of the game when it's on – and when it isn't.
"That's where people, especially younger players because they're inexperienced, can come unstuck.
CITY+ | SUBSCRIBE TO ACCESS EXCLUSIVE CONTENT
"Sometimes it's a case of 'let's just take this and clear our opportunities' rather than play your way out of it by doing something you're not in the team to do.
"It's helping them understand that their job isn't always to be involved or to be an outlet for the winger to come back inside.
"When they clear it, it's about making sure there's not a 50/50 ball for them to now get halfway up the pitch."
Beyond a greater emphasis on technical ability, another crucial attribute for the modern-day defender is versatility.
In City's 2-0 victory over Burnley last weekend, centre-half Nathan Ake was deployed as a left-back, while Pep Guardiola also opted to start Aymeric Laporte in the same position against the Clarets back in February 2021.
While Lescott was also a central defender by trade, he too was regularly picked to play at full back during his time at Everton under David Moyes, and explained what it takes to excel in an unconventional position.
"I think it was like 75% of my games for Everton were at left-back and I'd never played there before," he said.
"The way we were asked to play meant I could get forward, but my job was to defend, and I used to love the 1v1s.
"We've seen the way Pep sets up teams, defenders and full-backs especially go into midfield, so you have to be comfortable (on the ball).
"Your centre-half doesn't need to be forward in free play but at full back you can expose people and use that to your strength.
"You're an outlet as well, in the air you're going to be bigger than most wingers so you can compete aerially, too.
"It shows a massive intelligence. You can't just be a defensive full-back, especially nowadays, you have to be able to get forward and contribute in attack."